Association of Texas Professional Educators
Join ATPE now for the 2021-22 school year!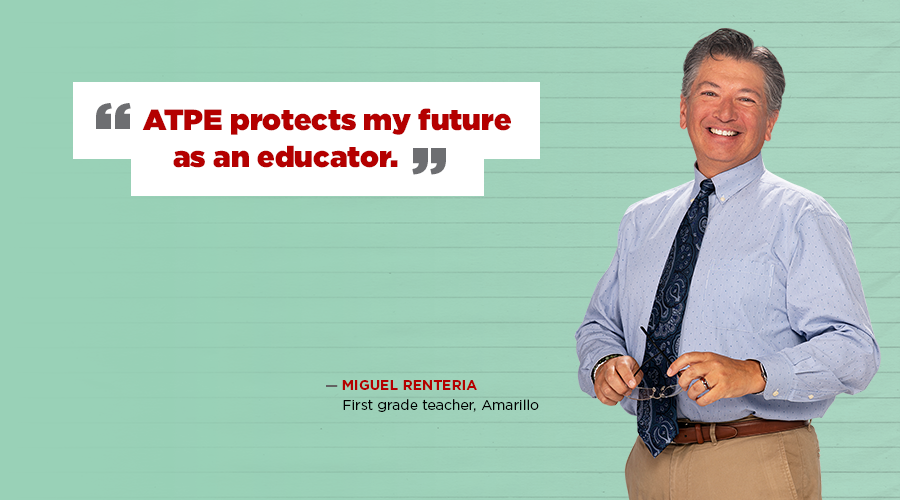 If we've learned anything in the past year, it's that life will throw us curveballs.
Join ATPE now for the 2021-22 school year.
As an ATPE member, you'll enjoy:
•
The peace of mind that comes from legal resources,* including up to $8 million in professional liability insurance; extensive employment rights defense insurance that's guaranteed, win or lose; and access to a team of staff attorneys who may help eligible members with job-related legal concerns
•
A respected voice at the Capitol in both Austin and D.C.
•
Professional growth through curated professional learning and leadership programs, including 24/7 access to 100+ hours of continuing professional education (CPE)
•
Expert analysis on education policy, law, and trends in our magazine and e-newsletters and on our website
•
Valuable discounts on school and office supplies, prescriptions, degree programs, travel, and more
Pay dues via credit card or bank draft to enjoy savings on your annual membership.
How much does a full year of ATPE membership cost?
$139
when you pay dues by credit card, bank draft, or check**
$175
when you pay dues by payroll deduction
Associate membership
(including para-educators)
when you pay dues by credit card, bank draft, or check**
$90
when you pay dues by payroll deduction
Administrator membership
(principals, assistant superintendents, superintendents)