ATPE Teacher Spotlight: Rey Banda
Association of Texas Professional Educators
Date Posted: 5/02/2022
Weslaco ATPE member Rey Banda, a special education inclusion teacher, writes children's books inspired by his own life experiences. Recently, he won two awards at the New York City Big Book Awards for his children's book Bean Saves the Day. ATPE sat down with Rey to talk about his success, his hopes for his students with similar aspirations, and what's next in his journey as an author.
What other awards have you received for your books?
Bean's New Home and Bean Saves the Day won first place in the 2020 Latino Book into Movie Awards in the category of cartoon/animated TV series. They take all the winners from all their categories and pitch them to movie/TV production companies. There's a possibility that the Bean books could become an animated TV series or cartoon in the future. It's just a matter of waiting for that phone call!
What inspires you to write your books?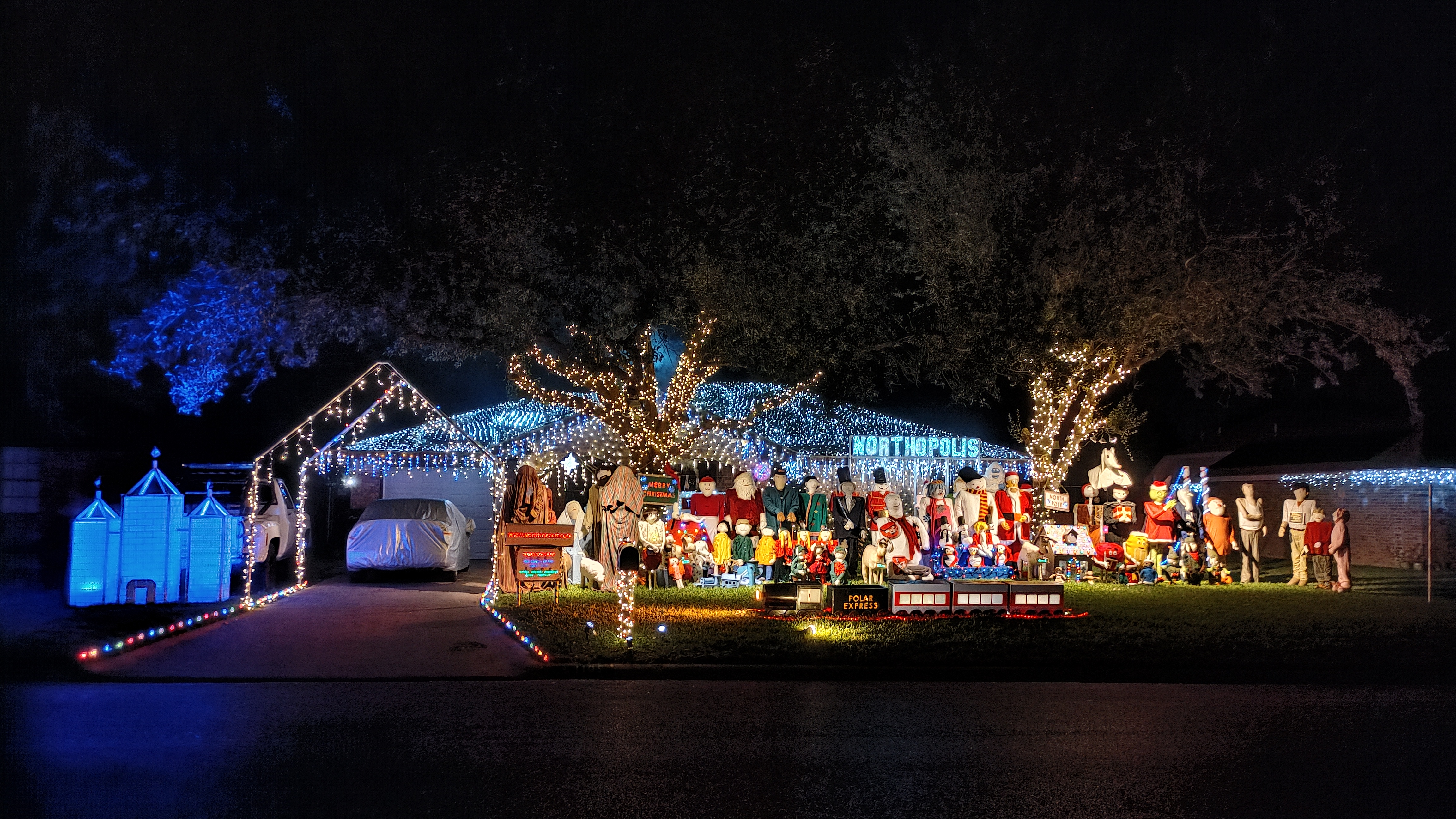 Northopolis (Click to view full size)
The Christmas book idea came to me because I've been decorating my house for the past 21 years, and I call the scene "Northopolis." My mom and I made decorations by hand, such as Frosty the Snowman, the Grinch, and the Abominable Snowman—and we've been featured on the news. In 2018, ABC's "The Great Christmas Light Fight" came to film Northopolis for their show. It aired in 2019. We didn't win the $50k, but it was still national TV recognition. Northopolis will also be featured on "The Texas Bucket List" this December.
After getting all that attention, I thought, "This is pretty big." I wrote my first book about a man named Nicholas who travels to the North Pole and discovers this magical city called Northopolis, where the city's magic turns him into Santa Claus. The next book is called Northopolis: Ryan's Christmas Dream, where the main character dreams of making his house the most decorated home in the whole world. Even though he gets criticism, he always brushes it off and keeps his dream alive.
My other books, Bean's New Home and Bean Saves the Day, are based on my cat that I rescued in 2010. I found him alone on a hot July morning, and I have a heart for cats. It was supposed to be temporary, but 12 years later and he's still with us! He has cerebellar hypoplasia, a neurological disorder that affects his motor skills—but to him, it's normal. It's a theme in both books—in the first one, he's welcomed into his new home, and the next book is about how he conquers his fear of thunderstorms.
Tell us a little about the process and how long it takes to complete a book.
It depends on when I can dedicate myself to it, to get the draft written out. At some points I just stare at it for a couple of nights. But once I've got my edits down, I ask a couple of people to read it to their kids. If they say their son or daughter loved it—so far, so good.
Then I'll ask for friends' feedback. I'll say, "Be brutally honest—if there's something there you feel doesn't need to be there, tell me." Once I've shared it with several people, it gets edited, illustrated, and finalized.
Now that you've written several books, and you plan on writing more, is it getting easier for you, or is it something that's always come easy to you?
It has gotten easier in a way, but at the same time, I want the next book to better than the previous one. And I've had people tell me that yes, your books are getting better every time. So now the pressure is on—the next one had better be a New York Times bestseller! I guess it's a little bit of pressure.
Do you feel like you were called to teaching and writing?
Life will take you on so many different paths; all these things happen for a reason. I always loved working with children; I always had a passion for working with students with disabilities. It's rewarding to hear thanks for going above and beyond.
I've always had a passion to write, and I think it took a couple of teachers motivating me and believing in me—maybe that inspired to become a teacher. I was always shy, a natural introvert, hoping the teacher wouldn't call on me. One teacher told me, "Your written work was always exceptional—you should work on being outspoken." I always kept those words.
How has life changed since you became an author?
Students will come to me for advice or for my opinion—they'll ask if I can read a poem or something else they've written, and I'll say, "Yes, this is really good!" I tell them, "I want to see you write a book someday!"
Do you have any new books in the works?
Yes—it's about a father who teaches his sons about the stars and the galaxies, and it's based on the time my dad showed Halley's Comet to my brother and me. That opened my world to space and all the cool things about it—planets, constellations, meteor showers, and things like that.
Congratulations, Rey—we look forward to reading your next book!