Association of Texas Professional Educators
Director's Message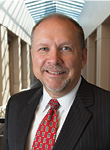 It's been my distinct honor and privilege to serve the approximately 100,000 members of the Association of Texas Professional Educators. The time has come for new leadership, new ideas, and new faces to lead this organization into the next phase. Having just celebrated 38 years of ATPE's existence and feeling some of the growing pains of an institution reaching "middle age," this is a good time to reflect on the strengths of ATPE as well as the opportunities for the future.
Clearly, ATPE holds a prominent place in the Texas public education landscape. This is due in large part to the sheer numbers of public educators and employees who are members. ATPE has risen to prominence because of an active and engaged volunteer base and a world-class staff. Together, we have forged a partnership that truly has set us apart from other organizations like ours that serve the public education community in Texas.
I depart ATPE hoping the next round of leaders will pay close attention to emerging trends and stay focused on how the future is unfolding around core issues like the changing face of the public education workforce and ATPE's dwindling volunteer base. If these and other issues are not properly acknowledged and addressed, ATPE will not be as strong in the future. Every good organization adapts and reacts as their environment changes. I firmly believe that our leadership will see the need to address these core issues and put forward strategies that will enable ATPE to flourish in the future. We simply cannot live in the past and expect ATPE to be successful in the future.
I am proud of the work we have done these last five years. Together, we have fought off vouchers, protected educators' rights, raised ATPE's profile across Texas, and continued to keep Texas's 5.4 million schoolchildren at the center of our universe. It has been a privilege to serve alongside our members fighting the good fight for public education and taking up the cause across the great state of Texas.
Gary G. Godsey
ATPE Executive Director