Association of Texas Professional Educators
In Memoriam: ATPE Past State President Sam Spurlock
In Memoriam: ATPE Past State President Sam Spurlock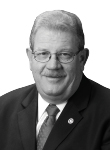 ATPE is saddened to share news of the passing of Past State President Sam Spurlock on Jan. 17, 2023. Spurlock served as the association's 2009-10 state president.
Born Nov. 22, 1954, in Mineral Wells, Spurlock was a proud graduate of Texas A&M University and married Rebecca Messenger on March 22, 1981, in Longview. He began his education career teaching agriculture in Kilgore, but the Spurlock family moved to Olney in 1989, and he taught science at Olney Junior High School for the next 33 years until his retirement. He also served as student council sponsor. His LinkedIn profile stated: "I am a classroom teacher of 35 years and have had the opportunity to help shape the minds of over 3,000 young people. My wish is that each and every single one of them carried something from my classroom that impacted their lives in a positive way. Education is my passion."
Not only did Spurlock positively shape the lives of his students, but also he was a giant among ATPE volunteers, inspiring a generation of leadership across the state. "Sam was an encourager," says Dale Lovett, Spurlock's friend, fellow Region 9 ATPE leader, and Olney colleague.
"He would push other people to do things they didn't have the confidence to do themselves."
Past State President David de la Garza served as state vice president during Spurlock's term as state president. "I met Sam on the campaign trail, when we ran against each other," de la Garza recalls. "I don't think he ever met a stranger. We instantly became friends. He was always willing to share and give good advice and introduce me to people I didn't know."
Spurlock's mentorship was served up with a generous side of humor. ATPE member Scotte Clark, minister of Hamilton Street Church of Christ, recounted many of Spurlock's witticisms at his funeral service, as well as just a few instances of his quiet, diligent service to others. Spurlock brought this approach to leadership to ATPE. "As a board member and an officer, Sam always thought through every issue we faced," retired ATPE Executive Director Doug Rogers says. "His dedication to the membership was second to none, and he was always willing to support other regions and local units as much as he did Region 9 and Olney."
Service as an ATPE state officer is a tremendous time commitment, and the bonds formed by those who serve together are strong and deep. Past State President Cindy Chapman recalls a state officer tradition Spurlock eschewed: sharing desserts.
"My group liked to order our desserts and then pass them around," Chapman says. "We each got a bite, then we enjoyed the rest of our own. Sam, however, was shocked. He did not want to share any of his, even if it meant not trying others. He would put his hands around his to protect it from being taken by us. I will say this tradition ended with him. He took presidential privilege to protect desserts from here on out! So I know he is enjoying his heavenly desserts as only he can.
"He was deeply devoted to his wife, his family, his church, his students, and ATPE. I was honored to serve with him and call him my friend. Go rest high, Sam."