Association of Texas Professional Educators
Volunteer Spotlight
Volunteer Spotlight
LaMarcus Wallace | Nacogdoches ATPE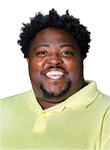 The thousands of ATPE volunteers across Texas are the backbone of this association. Their hard work and dedication allow ATPE to serve the state's largest community of educators. In this ongoing ATPE News series, we spotlight volunteers who set a great example of service to their fellow educators. NEXT UP: LaMarcus Wallace, transportation facilitator for Nacogdoches ISD, treasurer for Nacogdoches ATPE, and ATPE's 2021–22 Campus Rep of the Year for local units with 201–500 members.
Sense of Community
Wallace first joined ATPE because he saw that it was a community. "What I found in ATPE was that it was like a family," Wallace recalls. "It was a group of people who understood my struggles on a daily basis. They were able to relate to what I was going through, whether in the classroom, the school buses, or the lunch lines. It's just a group of people that understands my day to day."
Wallace was inspired to recruit new members to ATPE so they might share in the benefits of this community. He has been able to leverage his outgoing personality to do just that.
"I have been blessed with a gift: I'm a connector of people," Wallace says. "I can build a relationship with anyone." A key part of building these relationships—and then recruiting people to join ATPE—is listening to them in order to present a personalized pitch. "I tailor it to the individual. I let them talk to me. I let them tell me what they're passionate about. Then I will sell ATPE, but not before."
Connect with Your Why
Recruiting and building relationships may come naturally to Wallace, but he says many of his techniques are easy to replicate and use in your own recruiting efforts: "My advice would be to connect with your why. Why did you join? What makes you passionate about ATPE? Figure that out and share that. Once people connect with what made them sign up in the first place and share that with others, it's easier to convince others to sign up. That is what motivated me to join."
Wallace also reveals preparation and patience are the other keys to his recruiting success. First, he is prepared to meet common objections to joining.
"Some people are concerned about the price, spending $5 or $10 per paycheck," Wallace explains. "I respond by asking them for three examples when they blew $5 on something frivolous. I will share that I routinely blow $5 on a bag of Doritos and a Dr Pepper. But with this money, you are getting something that can change and enhance your life. You are getting access to people who will support you if something goes wrong. You are getting people who advocate for you in Austin and Washington, D.C. That removes a lot of objections."
Finally, if this approach does not work, Wallace does not press the issue. He focuses instead on creating a personal connection he believes will pay dividends in the future.
"If I don't close the application, at least I have made a connection with that person. I'll just come back a bit later. I just try to share my love of ATPE and how it will benefit them whenever they join."
Interested in becoming an ATPE volunteer? Reach out to ATPE's Volunteer Program Coordinator at volunteer@atpe.org.